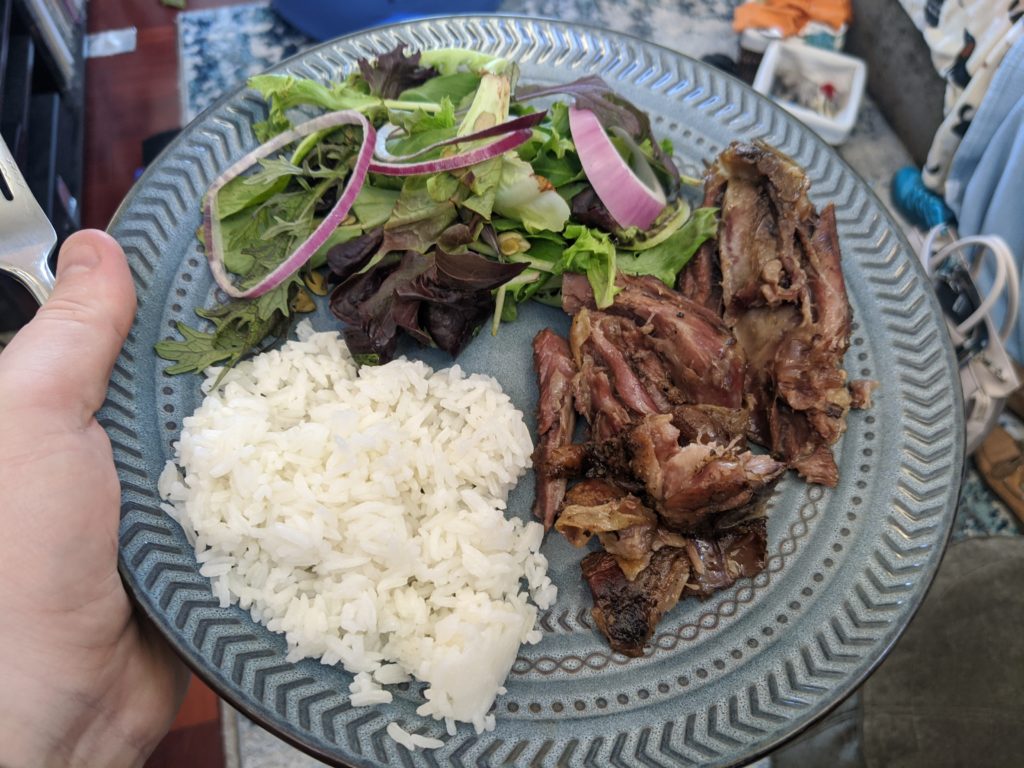 INGREDIENTS:
4 lamb shanks
olive oil
6-8 cloves of garlic
6 sprigs of rosemary
flaked salt
fresh cracked pepper
Splash of red wine to deglaze
1 cup of turkey broth
1.) Pat dry each lamb shank with a paper towel, and then sprinkle flake salt and freshly cracked pepper over the meat. Make sure that each shank has coverage of the salt and pepper. Let the shanks sit for about 30-60 minutes at room temperature. This gives the salt time to infuse into the meat before cooking.
2) Preheat oven to 450°F.
3) Rub the shanks with olive oil and then place in a dutch oven without the lid. Bake at 450°F for 20 minutes.
4) Remove the lamb from the oven. Set the temperature to 325°F, but keep the oven door slightly open to help quickly cool it down to the correct temperature.
5) While the oven is cooling, add your whole cloves of garlic and rosemary to the dutch oven. Place the lid on the cookware, and then wrap everything in foil.
6) Bake at 325°F for 2 hours. Do not remove the foil until done baking. This ensures that the meat will not dry out in the oven.
7) Prepare 1 cup of turkey broth.
7) Once the meat is done cooking, place the lamb shanks on a plate. Preheat the oven to 400°F.
8) Add enough wine to cover the bottom of dutch oven and deglaze. Scrub all the sticky bits off the bottom of the pan into the liquid with a wooden spoon. After about 15-30 seconds, add in turkey stock. Place lamb shanks back in the dutch oven, and cook at 400°F for another 15 minutes. The meat will smell amazing and will be lightly browned when finished.