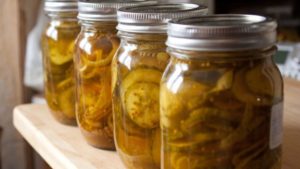 Things you need
Large pot for a boiling water bath
8 pint jars with clean lids and bands
A heat resistant pitcher for pouring hot brine
Vegetable mixture
4 qts medium cucumbers (sliced)
6 medium white onions (sliced)
2 green peppers (chopped)
8 cloves of garlic (one per pint jar)
1/3 cup coarse – medium salt
cracked ice
Brine
5 cups of sugar
1.5 tsp tumeric
1.5 tsp celery seed
3 tsp mustard seed
3 cups cider vinegar
Do not pare cucumbers.
Slice your cucumbers thin, add onions, peppers, and whole garlic cloves into a large bowl. Add salt, cover with cracked ice, and mix thoroughly. Let stand covered for 3 hours.
Drain in a colander, but do not rinse. Set aside garlic cloves into a small bowl. These will be added to each individual jar.
Fill a large pot with water that leaves two inches of liquid above the height of the pint jars you are using. Bring this water to a boil. Place your jars, lids, and bands in the boiling water to sanitize.
Combine cider vinegar, sugar, tumeric, celery seed, and mustard seed into a pot and bring to a boil. Once all ingredients in brine have been dissolved and the liquid has reached boiling temperature, pour into a heat resistant pitcher you can use to fill your packed jars.
Once your large pot is boiling, use your canning tongs to grab a jar from the water. Empty the water and start stuffing it with your vegetables. Fill as much as you can into each jar, add a garlic clove, then pour in your brine until it reaches the top of the jar. Place the lid on, and band it making sure not to tighten it too much. You want air to be able to escape when you place the jar in your boiling water bath. As the jar cools it will create a vacuum onto the lid which will ensure your food doesn't spoil. Boil your packed jar for 3 minutes, and then pull from the water bath and allow it to cool down at room temperature.