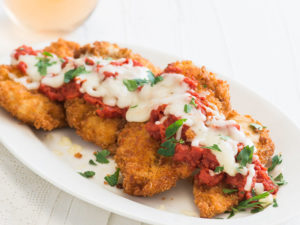 4 chicken breasts
.5 stick of melted butter
.5 cup of toasted panko bread crumbs
.5 cup of grated parmesan cheese
4 cloves of minced garlic 
.5 tsp of salt
1 jar of marinara sauce
1 bag of shredded mozzarella cheese
1 bunch of Italian parsley (optional)
Preheat oven for 360°F.
Combine bread crumbs, cheese, garlic, and salt together in a bowl. Pat dry chicken breasts with a paper towel, dip in butter, then dip in bread crumbs. Arrange chicken in a shallow greased pan, dab each chicken breast with a little bit more butter, and cook for 40 minutes. Turn on broiler to low.
Pull the pan from the oven and add marinara sauce to each breast and sprinkle mozzarella cheese on top.  Make sure to check the temperature of the thickest part of the chicken breast at this point before placing back into the oven. Watch the breasts in the pan while broiling to insure you are not burning the cheese. Once melted to your liking, pull the chicken from the oven. Plate the chicken breast, and sprinkle chopped parsley on top for presentation
Chicken Parmesan can be served on it's own, or with pasta.