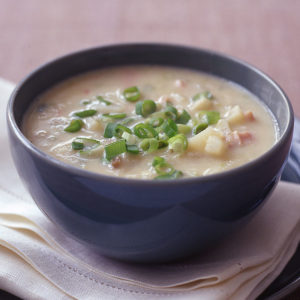 INGREDIENTS:
4 cups diced peeled potatoes
2/3 cup chopped celery
1/4 cup chopped white onion
2 1/4 cups water
1/2 cup butter
1/4 cup all-purpose flour
1 tsp salt
1/2 tsp fresh cracked pepper
2 1/2 cups milk
1 tsp dried dill weed
8oz shredded cheddar cheese
2 chicken bouillon cubes
1 cup diced cooked ham or crumbled bacon
diced green onions (optional)
Heat a pan to medium-high heat and add your celery, onion, salt, pepper, and a tablespoon of EVOO. Sweat the vegetables until the onions are translucent are cooked. Remove from heat.
In a larger pot, bring your water to a boil and add your bouillon cubes and potatoes. Boil until the potatoes are cooked, then lower the heat to simmer. Add the celery/onion/salt/pepper mix into the pot with the potatoes and then melt the butter at medium heat in the pan you used to cook your vegetables. Add the flour while stirring. This will create a paste. Cook this paste until it mildly changes color, then slowly start adding milk to create a roux. Simmer the roux, then add the cheese, dill weed, and cooked ham/crumbled bacon. Once this is mixed, you can add the potato/chicken bouillon mixture. Simmer on low and allow the chowder to thicken.