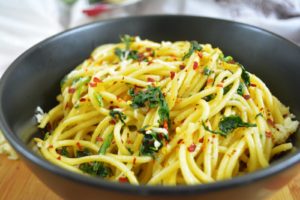 INGREDIENTS:
3/4 – 1 head of thinly sliced garlic
1/2 pkg of spaghetti
1/2 – 1 bunch of parsley (leaves will be used)
1 Tablespoon Samba Oelek
1/2 cup quality EVOO
bread crumbs (optional)
parmesan cheese
Juice from 1 lemon
large pot of heavily salted water
PREP WORK:
Peel and thinly slice all of the garlic and set it aside.
Pick apart the leaves from your parsley, and chop it finely.
Bring a pot of heavily salted water to a boil and then add your spaghetti. While you've got your spaghetti cooking, add 1/2 cup of quality EVOO to a pan and bring it up to medium high heat. Add the garlic your olive oil and watch carefully. Once the garlic slices start to brown along the edges, remove the pan from heat and add a tablespoon of Samba Oelek. Check your pasta, as you want to serve it al dente. Once you've strained your pasta, add it directly to the pan of garlic and olive oil. Add the chopped parsley and stir until all ingredients are well distributed.
This dish is so easy to make, and tastes amazing. Toast some bread crumbs in the oven to sprinkle on top of your pasta bowl.  Grate some fresh parmesan and cracked pepper further enhance the flavor of the pasta. If you do your prep work in advance, cooking this dish shouldn't take you more than 30 minutes or so.